Your guests will remember lots of things about your big day – the wedding dress, the speeches, the entertainment – but what really matters to them when they are in the moment, is what they are eating.
The food on offer should matter a great deal to you too as food brings people together and provides a foundation for bond building; especially for those at a table with guests they are not too familiar with. Additionally, this element of your day is going to absorb a large portion of your budget; so, it's important that you're impressed with it.
Finding the right caterer for your wedding is crucially important and as you're almost certain to want the best, you'll need to decide on what your expectations are, what is non-negotiable and how you vision your culinary hospitality service.
To help you make the right decision, we've put together some top tips when choosing a caterer.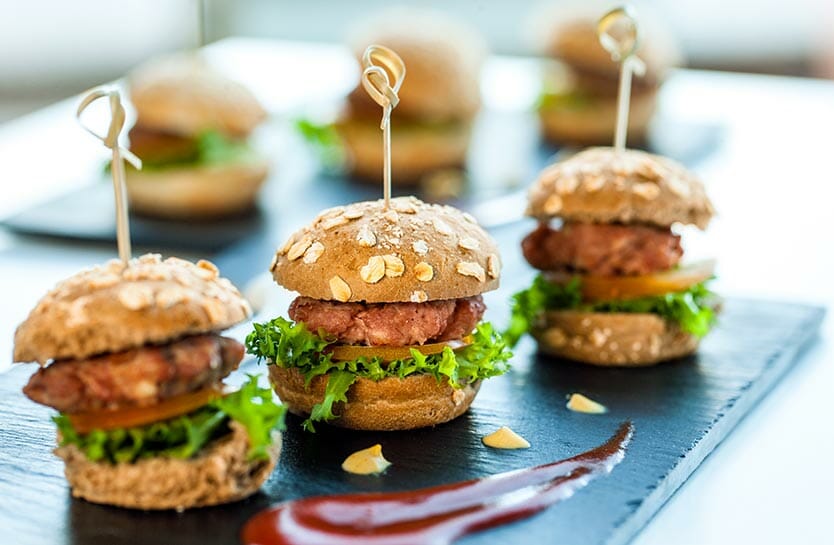 Purple Fizz's top tips for catering a wedding
Be particular When choosing your caterer, you need to know exactly what food options they can supply. Many caterers are specialists with a specific style of food or regional food; for example, 'bowl food' or Greek food. If you are looking for something specific, it's wise to select a niche caterer who specialises in that something. In our experience, guests are overjoyed when they are able to choose from a menu and many caterers offer this service.
Don't be pressured by 'preferred suppliers' Many venues provide their own catering services or are able to recommend their preferred caterers for you. Don't feel pressured into using one of these 'preferred suppliers' and be sure to research them as you would any other supplier. Often, suppliers are placed on preferred suppliers lists because of the commission they pay to the venue, more so than the quality of their service. Sourcing your own catering supplier could give you better value for money and ensure that you get what you really want.
Request a sampling Requesting a sampling is paramount to ensuring that your expectations are going to be met. Many couples skip this as some caterers charge extra for a sampling; however, if you do need to pay for this service it will be money well spent.  Don't take any chances and ask to sample the menu before making any commitments.
Negotiate on cost & be clear on what is included Catering will be one of your largest expenses, so make sure that you start with a price range and see which caterers fit into that.
Be sure to get an itemised quotation so that you can be clear of what is and what isn't included in your quotation. Does the price cover the cost of crockery and cutlery? Will the caterer provide waiting staff to serve your food or will there be a 'lay and leave' buffet-style service? It's important that you know exactly what you're paying for, so that you can get an accurate idea of what your catering service is costing you and can allow for any extras in your overall budget.
The benefits of choosing your own caterer
There are endless benefits to enjoy when choosing your own caterer. Here are our top three:
You are completely in control when making your food choices for your special day.
A whole world of variety is available to you and anything is possible.
Excellent wedding caterers rely heavily on their reputations to keep their small businesses going; so when you choose the right caterer, you have an excellent chance of receiving real quality food along with an exceptional service for your special day.
Contact Purple Fizz
Give us a call on 0800 246 1185 or email to ask us any questions about our mobile bar hire services.