Choosing the perfect venue for your wedding day can be overwhelming; after all, there are endless options to choose from with each offering something different. Some couples plan their dream wedding location well in advance, while others leave it right to the last minute. Either approach has its benefits, but in either case, choosing your wedding venue will be the most important planning decision that you will have to make. If this sounds daunting, it doesn't have to be.
We've put together some top tips to help you when choosing your perfect wedding venue: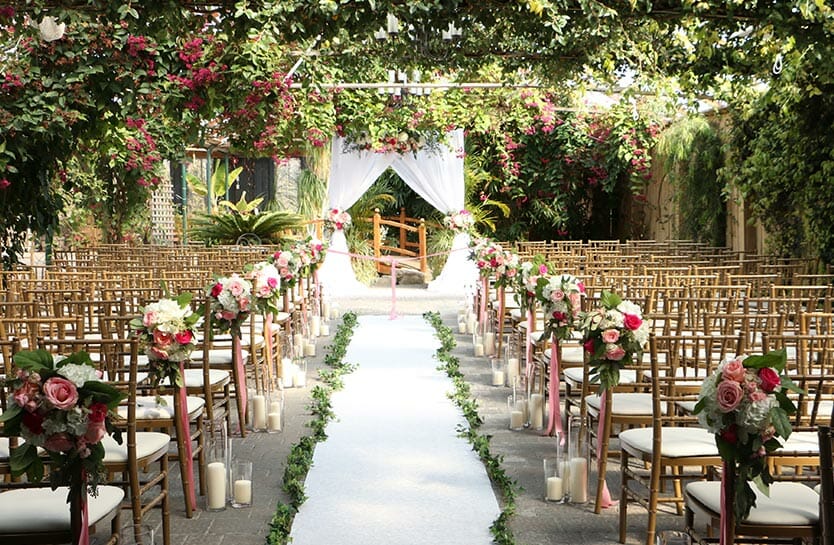 Purple Fizz's top tips
for choosing a wedding venue
Is your wedding date flexible? If your wedding date is set in stone, be prepared to temper your expectations. Popular wedding venues are likely to have scarce availability, so you may need to book up to two years in advance. If you can be flexible with your wedding date, this will give you a wider range of venue choices and price options.
Be almost certain of your guest numbers Having relatively accurate guest numbers will give you a clear idea of what price-per-head bracket you will fall into, as many venues have different prices for varying guest numbers. It will also allow you to shortlist venues that are either too large or too small.
Be clear on what is included Some venues offer a leading price that purely covers the hire of the venue and then you can add everything on. Others will start with a package for X amount of guests to include the wedding breakfast, arrival drinks, toast drinks and table wine with water and then additional guests can be offered at £X per head. Some venues charge extra for chair covers and tablecloths; so, it's important that you're clear on what is included to help you factor it into your wedding budget.
Keep accessibility in mind Consider how your guests will get to and from the wedding venue. Is it easy to find? Is it nearby or far away? This might influence the time of your ceremony, as guests travelling from far will need time to get ready and travel to your wedding venue. Can vehicles access the grounds? Make sure that you opt for a wedding venue that most of your guests can easily get to. Parking is no longer a luxury; it is a necessity. Considering all of these elements will ensure that your guests have an enjoyable experience as they approach your wedding venue ahead of your ceremony. Unfortunately, travel can be stressful and even more so when you are unfamiliar with your destination; so, give your guests a chance to soak up the anticipation of romance. This is your special day after all.
Make venue visits productive This is your one and only special day, so take the time to visit several venues. If you struggle for time around work, use it as an opportunity at the weekend to spend some quality time with your fiancé and perhaps treat yourselves to lunch after to discuss it. This will help you make decisions and think of questions while your visit is fresh in your mind and will avoid adding it to your 'to-do list' and getting delayed.
Don't be shy to ask questions Whatever question you might have, 'silly' or not, you can bet-your-bottom-dollar that the venue has been asked it before. Over and over again, meaning they are well equipped to fully answer your questions, or find out and get back to you. Ask, ask and ask again. You will soon get a feel for which venues offer helpful, full and timely responses that give you confidence, and which ones you don't feel can meet your expectations. Avoiding doubt will put you at ease.
Check for any catering and bar restrictions
We always advise people to consider venues that will allow external caterers and bar suppliers. These are the reasons why:
As most event caterers and bar suppliers are micro businesses, they have lower overheads than event venues meaning that you can benefit from greater value for money without compromising on quality and service.
You can tailor your culinary menu and drinks menu to include signature cocktails and craft options. This bespoke approach will not only impress your guests, but it will add personalisation and uniqueness to your special day.
You can dictate the timings of your meals and drinks service. Many venues have a set schedule that they stick to as it improves the efficiency of their team. This is a great move; but, it might not suit your intentions for the day.
Contact Purple Fizz
Give us a call on 0800 246 1185 or email to ask us any questions about our mobile bar hire services.