BESPOKE MOBILE BAR
HIRE IN LONDON
Take your event to the next level with freshly made cocktails and professional bar service. We've provided bespoke mobile bar packages for more than 600 successful events and have worked within venues such as The Chainstore Lighthouse, The Art Pavilion, and the Fraser Hart Rolex store in Brent Cross. We can provide fully staffed mobile bars for events throughout London and will work closely with you to create the perfect package for your celebration, wedding, or corporate event.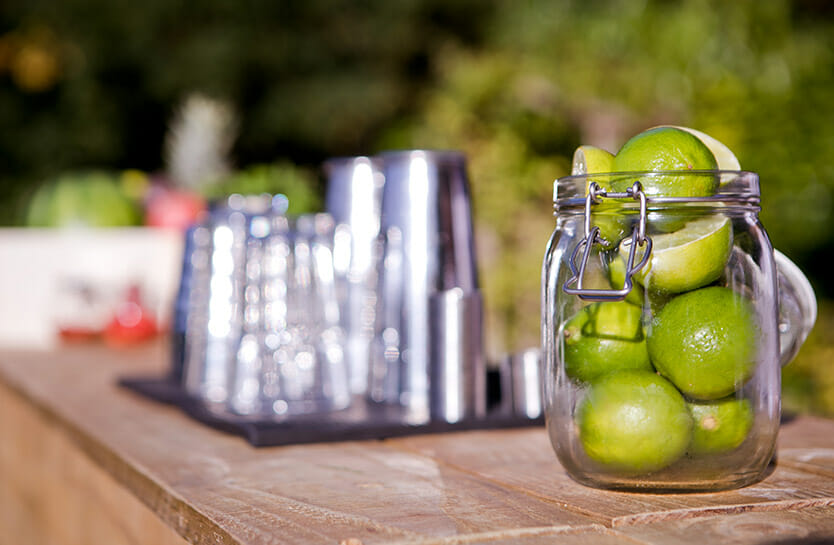 Building the perfect mobile bar
hire package for your London event
We don't provide an 'off the shelf' service. All our bar packages are entirely bespoke and are tailored to your tastes and requirements, so you only pay for what you need. Choose from one of our three core options and then we'll work together to create the bar package that is perfect for your event. We can provide fully staffed bars with trained bartenders, and facilities such as glassware and refrigeration. We also offer a range of personalisation options that can be used to tailor your bar for your celebration, wedding, or corporate event.
Our core mobile bar hire options are:

Pay bar
Your guests will pay for their own drinks and we'll provide any facilities that you need. There will be a minimum spend but, provided this is met, you won't have to pay any costs. Your guests will also pay less for their drinks than they would at a traditional bar venue. Everybody wins.

Dry bar
You provide the drinks and we'll take care of everything else; our team will provide any facilities that you require and will take the stress out of your evening by serving your chosen drinks to your guests. All you need to do is make sure that you've sourced enough drinks and that you've arranged to handle any waste.

Open bar
You take care of the bill for your guests and we'll take care of the rest. Simply tell us what facilities you require and then leave everything up to us. This option offers complete peace of mind – you don't have to worry about making arrangements or meeting a minimum spend. Plus, your guests get to enjoy an open bar.
Corporate events in London
Our mobile cocktail bars are an increasingly popular option for corporate events throughout London, including product launches, office openings, and parties. The bespoke nature of our bar packages means that we can accommodate requests and requirements that traditional bar venues would struggle with, while also offering excellent value. From personalising your bar so that it matches your corporate branding, through to creative requests such as creating a custom cocktail menu, if there's something your event needs – we'll do everything we can to make it happen.
Why choose Purple Fizz
for mobile bar hire in London?
Experienced teamWe know how to make sure that your event lives up to your expectations. Our team has worked on more than 600 successful events, covering all kinds of occasions and catering for a wide range of different group sizes.
Excellent communicationWe're committed to our 'anything you need' approach and we pride ourselves on maintaining clear and open communication with all our customers. Ask us any questions and we'll always get back to you with a full, timely response.
Bespoke bar packagesWe'll work with you to design the perfect bar package for your event, making sure that we receive your input and we're meeting all your requirements. After all, why pay for a generic 'off the shelf' package that may not suit you?
Thorough preparationOur in-depth preparation will make sure that your event runs smoothly and seamlessly. We'll schedule a site visit so that we can familiarise ourselves with the venue, and we'll arrange a complimentary cocktail tasting so you can sample your chosen drinks ahead of time.
Amazing from start to finish
Absolutely amazing from start to finish, very professional from the initial contact, the mixologist who arrived was fabulous, his cocktails were amazing, everyone said they were the best they've ever tasted, nothing was too much to ask. Two guests who attended my party are now going to book with this company for some events they have coming up, I couldn't recommend them enough!
Imogen C.
Fantastic staff & amazing cocktails
Our event was a roaring success with thanks to your fantastic staff & those amazing cocktails!! Your team were super organised, professional, very friendly and worked really hard all evening. We would be most happy to recommend you for any future events, our whole experience of dealing with yourself in the first instance and the team during the event was a pleasure!
Helen N.
Thank you so much for such a professional service! The bar was fantastic and our guests loved it (as did we). Simone was absolutely wonderful, she did a great job and was so helpful. Thanks again, we will definitely be using you again in the future.
Sasha P.
So glad we chose you guys
We had such a wonderful party and Neven our mixologist bartender was amazing and played a huge part in the success. So glad we chose to use you guys, really made it special and he went above and beyond what was expected of him also.
Leah M.
10/10 for customer service
Thank you so much for suppling your cocktail bar for our party on Saturday, it was an amazing party, made that extra bit special by your cocktail master Graham. He was so professional and helpful, I would highly recommend your company to anyone looking for this sort of thing. Not only are you competitive in your field, but the service we received was second to none and I would give you 10/10 for customer service and communication too.
Amanda M.
Get in touch
If there's anything you'd like to know about hiring one of our mobile cocktail bars for an event in London, get in touch and ask us. We're always happy to answer any questions.
You can call us on 0800 246 1185 or you can email
Pricing
Interested in hiring one of our mobile bars for your event in London?
All our bar packages are tailored to meet your requirements, providing everything you need to make your event a success.
Find out how our pricing works
Contact Purple Fizz
Give us a call on 0800 246 1185 or email to ask us any questions about our mobile bar hire services.